Unfortunately I don't have this one anymore because we moved, but it was a great chicken house. It was built in 1990, and I don't have any great photos of how the inside looked when it was done. It was huge, was on concrete, had electricity, and had 14 pens in it. It even had windows, a shingled roof, and gutters. Here's some photos of how it looked while under construction:

It's almost done in this picture, except for the chicken wire over the outside pens, and the water system inside.

This is the inside, not completed yet. The birds had a perch and feeder on the "upper level" (as seen through the open door) and an automatic waterer on the lower level. I never used those small pens up top very much because they were too hard to clean since they were so high. They were ok for keeping a bird clean the night before a show though.
This is how it looked just before we left in 1997. As you can see the trees grew quite a bit!
---

This is another one where the name makes no sense now, but it started out on our old property and looked like this:
It was built around the ash tree in the middle of the pen. The fence was just t-posts and chicken wire, with a frame made of old solar-heating pipes (our theory is use what you have sitting around) and tree netting. We brought that little house with us when we moved. Here's how it looks now: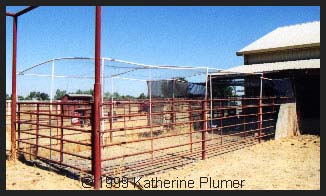 This aviary-type pen was finished in 1998. It is in a horse corral. We lined the fence with chicken wire, which is wrapped around a metal pipe at ground level to keep critters out. It has a PVC plastic frame, wired to the fence posts, and has plastic tree netting over the top, as well as some shade cloth. The pen itself it 10 feet wide by 8 feet tall by about 24 feet long.
Here's a look through the door into the pen. The door is just a PVC frame with chicken wire, and the door frame itself is a t-post on one side, the little house on the other, and for the top my brother just tied the netting onto a nylon strap and then hooked that to the underside of the barn overhang (I know it's impossible to see what I'm talking about)
This is the little house that we brought with and put under the barn overhang. It is an odd size, so I won't even say what it is. Build things standard sizes if possible. It has a feeder and some perches inside.
This, I think, is a great pen. It can hold A LOT of birds, gives them plenty of room to run, is much easier and cheaper to make than a real chicken house. If you don't want to "cage" your birds, and want them as free-ranging as they can be, I think this is the way to go.
In the winter of 2000/2001 the PVC version of this pen suffered immensely in a wind storm that we had, and has since been redone with metal pipe (the kind that's used to chain-link fences). So PVC holds up ok until you get horrendous wind.

This one was built in 1997 when we moved to our new place, and it is the house where I keep most of my breeder birds and older show birds. It flooded that first winter because we didn't know our yard sloped down right there, so it has been raised 8 inches on a concrete lip, and lots of dirt. It didn't have that overhang at first either, but got too much rain in it, so the overhang is great. The windows were added much later, to give more ventilation and more light.
It is 20 feet wide, 7 feet long, and slopes from a little over 8 feet tall in the front. It has a dirt floor, and a tin roof (should have put fiberglass "skylights" in it). The outside pens are 8 feet long. You might notice that the doors and outside pens are spaced a little funny. All the doors, both front and back, were taken from "The Big Chicken House" when we moved, so we made this one to fit those doors.
Here's a view of the inside of one pen. Each pen has a hanging feeder and automatic waterer, and perch that is quite high off the ground in order to exercise their wings.
I think this is a good design for a chicken house. It would be better if the pens were a little wider, and of course I could use a lot more of them... :-)